Spooky Bundles!
Our first Adult book bundles available October 1.
Ready to get spooked? Looking for your next great read? Here are some bundles from the Athol Public Library to help you get in the spirit of the season this October!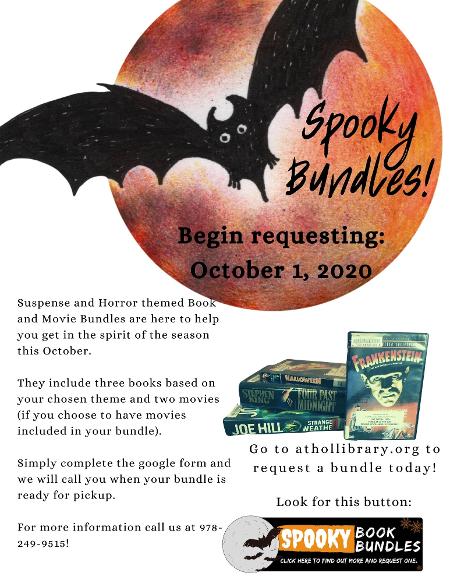 Spooky Bundles are available, October 1 – 31, 2020! Suspense and Horror themed Book and Movie Bundles! They include three books based on your chosen theme and two movies if you choose to have movies included in your bundle.
You won't know exactly what books and movies you are getting until you pick them up. Like our curbside orders, we will check the books and DVDs out to you when you arrive. Not a fan of one of the items in your bundle? No worries, you can return any titles to our book drop outside the library whenever you are ready.

So, how do you get one of these awesome bundles? Just fill out a quick Google form to request what you would like. Simply go to athollibrary.org to access the form at any time. We'll gather your materials together and give you a call when they are ready to be picked up. Spooky Bundles must be picked up during the library's curbside hours: Monday and Wednesday 10:00 am - 2:00 pm and Tuesday and Thursday 2:00 pm - 6:00 pm.
When you come to pick up your bundle just call us at 978-249-9515 to let us know you are here to pick up your Spooky Bundle.
If you have any questions please email us at info@athollibrary.org or call us at 978-249-9515!
Posted: to Athol Library News on Thu, Sep 24, 2020
Updated: Mon, Sep 28, 2020