New Teen Clubs!
Starting in September!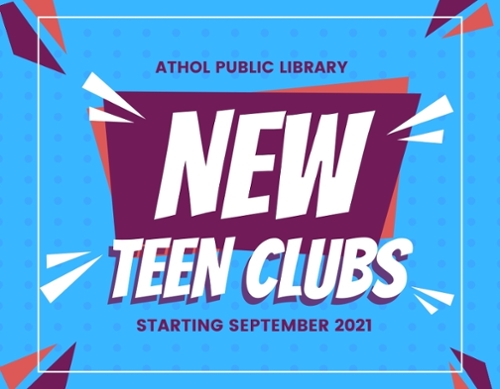 The Athol Public Library's Teen Space is starting off the fall season with three fresh new clubs. Beginning this September, teens in grades 6 -12 can drop by the library to enjoy Crafternoons, Otaku Tuesdays, and a Bring Your Own Book Club.
Take time to unwind and get creative with Teen Crafternoons. On the second Wednesday of the month drop by the Teen Space at 3:30pm for a laid-back craft. Each month there will be a new craft to learn and enjoy. On September 8, turn recycled magazines into colorful animal silhouettes. On October 13, learn how to make personalized monster themed bookmarks. Make your own beaded jewelry with the library's large collection of decorative beads on November 10. Then, on December 8, turn old books into stylish upcycled ornaments. Attend them all or just your favorites. It starts on September 8 in the Teen Space.
If you are a fan of anime and manga then you'll love Otaku Tuesdays. Join the library staff on the second Tuesday of each month at 3:30pm for this fun new club. It is the perfect opportunity to meet others who share your interests while learning about new series. Celebrate the world of anime with activities, crafts, games, Japanese snacks, and more. The first club meeting will be on Tuesday, September 14.
On the Third Monday of each month, the library will host a Bring Your Own Book Club just for teens. Instead of the traditional book club format, teens are invited to read any book of their choosing to discuss at meetings. It will be the perfect space to geek out over books, share your favorite titles, meet other book lovers, and get reading recommendations, all while enjoying book themed games and activities. The club's first meeting will be Monday, September 20, at 3:30pm in the Teen Space.
All clubs are free and open to teens in grades 6 through 12. No registration is required but you can sign up for text message or email reminders by dropping by the library's Teen Space or visiting athollibrary.org/teens. At this time, faces masks are recommended but not required.
Posted: to Athol Library News on Tue, Aug 24, 2021
Updated: Tue, Aug 24, 2021