What Have You Been Reading?
Monday, August 22 @ Noon.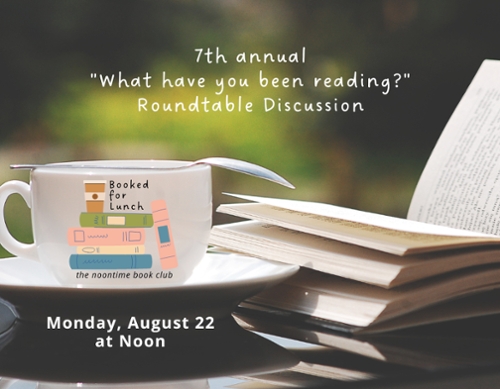 Have you been lost in a stack of books this summer? Found time to devour the latest beach reads? Maybe you're (finally!) getting caught up on the classics? No matter what you're reading, talking about books is always great fun. You know that feeling, when you finish a delicious story that you just have to tell someone about?? We've got the perfect place to share your favorite summer recommendations. Join Robin B. and other book lovers this August for the 7th annual Booked for Lunch "What have you been reading?" round table.

Mark your calendar now for August 22 and make a list of all your reads (you can even use the Beanstack app)! With just about a month before the meeting, you still have time to add another book (or two) to your list.

Join Robin Brz. in person or online via Zoom to talk about the best (and worst) of what you've read this summer. This event is an awesome way to gather recommendations and a great introduction to the Booked for Lunch discussion group.

Registration is encouraged, but not required. Drop-ins are welcome as space allows. Sign Up online with the Library Calendar, reach out to Robin at Rbrzozowski@cwmars.org or by calling 978-249-9515. Free and open to the public, the meeting will be held in the library's Conference Room on Monday, August 22 at noon.
Posted: to Athol Library News on Fri, Aug 5, 2022
Updated: Fri, Aug 12, 2022