April Booked For Lunch Selection
Monday, April 24, 2023 at noon: We Are The Light by Matthew Quick.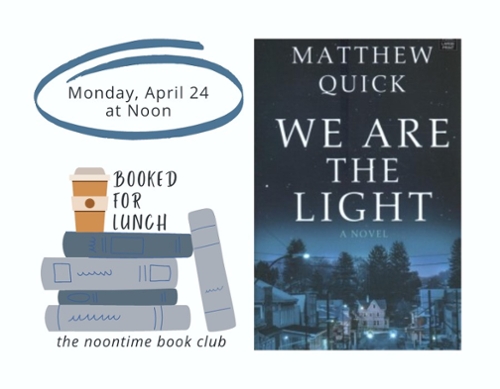 This April we are discussing
We are the Light
by Matthew Quick. "Filled with everyday guardian angels, this bittersweet, redemptive meditation on rebuilding after the unthinkable reminds readers that beauty can be found even among shattered pieces.
We Are the Light
is a perfect read for anyone in need of an insightful, optimistic view of humanity's capacity for compassion and growth." (Shelf Awareness)
Lucas Goodgame lives in Majestic, Pennsylvania, a quaint suburb that has been torn apart by a recent tragedy. Everyone in Majestic sees Lucas as a hero—everyone, that is, except Lucas himself. Insisting that his deceased wife, Darcy, visits him every night in the form of an angel, Lucas spends his time writing letters to his former Jungian analyst, Karl. It is only when Eli, an eighteen-year-old young man whom the community has ostracized, begins camping out in Lucas's backyard that an unlikely alliance takes shape and the two embark on a journey to heal their neighbors and, most importantly, themselves.
From Matthew Quick, whose work has been described by the Boston Herald as "like going to your favorite restaurant. You just know it is going to be good",
We are the Light
is "a testament to the broken and the rebuilt" (Booklist, starred review). The humorous, soul-baring story of Lucas Goodgame offers an antidote to toxic masculinity and celebrates the healing power of art. In this unforgettable and optimistic tale, Quick reminds us that life is full of guardian angels. (Book jacket description)
Join Robin Brz in person or online via Zoom, on Monday, April 24 at noon. Regular and large print copies are available now at the adult circulation desk. Digital editions are available for download using Libby. Registration is encouraged using our calendar at
https://athol.librarycalendar.com/event/booked-lunch-9
or by email at
RBrzozowski@cwmars.org
.
Posted: to Athol Library News on Tue, Mar 21, 2023
Updated: Wed, Mar 29, 2023