Virtual Booked For Lunch: And They Called It Camelot by Stephanie Marie Thornton.
Monday, March 22 at noon on Zoom!
Booked for Lunch, the monthly virtual noontime book club, will read And theY called it Camelot: a novel of Jackie Bouvier Kennedy Onassis by Stephanie Thornton. If you love talking about books, consider joining the discussion. It's a great way to connect with other book enthusiasts, share conversation and even have a few laughs. Copies of the book are ready for pick up at the library, and digital editions are available on Libby. Email Robin Brz at Rbrzozowski@cwmars.org for information on joining the meeting.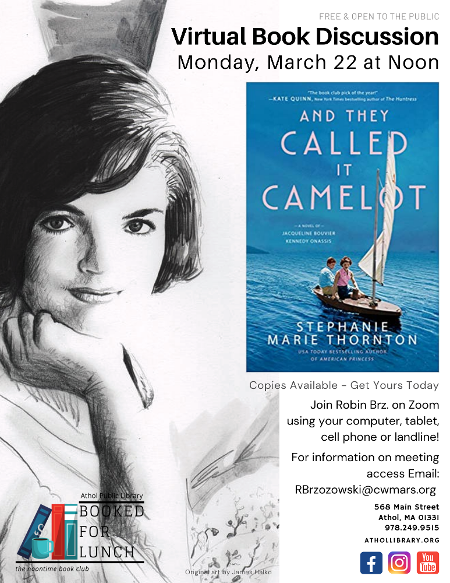 About the book:
Few of us can claim to be the authors of our fate. Jacqueline Bouvier Kennedy knows no other choice. With the eyes of the world watching, Jackie uses her effortless charm and keen intelligence to carve a place for herself among the men of history and weave a fairy tale for the American people, embodying a senator's wife, a devoted mother, a First Lady—a queen in her own right.
But all reigns must come to an end. Once JFK travels to Dallas and the clock ticks down those thousand days of magic in Camelot, Jackie is forced to pick up the ruined fragments of her life and forge a new identity that is all her own, that of an American legend.
"Students of history will appreciate Thornton's exacting research and convincing portrayal of the first lady and style icon, and Kennedy aficionados will feel as if they have an unparalleled access to Camelot. Thornton's magnificent portrayal of Onassis will delight fans of Kennedy-related fiction."—Publishers Weekly (Starred Review), on And They Called It Camelot.
Posted: to Athol Library News on Wed, Mar 3, 2021
Updated: Wed, Mar 3, 2021