Story Time Live: Names
Wednesday, March 10, at 10:30 am AND 11:30 am
Join us on Zoom for Story Time! This week, River will read books about names and how they make us special! Thunder Boy Jr. by Sherman Alexie is about a little boy who is tired of sharing a name with his dad and decides to change it to something perfect just for him. Alma and How She Got Her Name by Juana Martinez-Neal is about a little girl who thinks her name is too long, until her father tells her how each of her names connects her to her family roots.

For the month of March, we'll be running the same Story Time twice, so if you can't make it at 10:30, join us at 11:30, when we'll reread the same books!

The craft for this week is a name caterpillar! You can pick up your mask after you register for Story Time!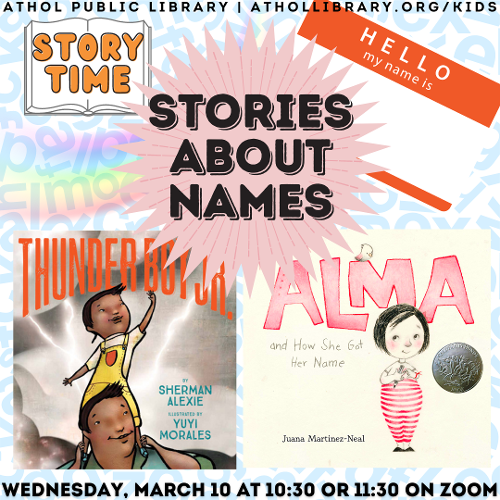 REGISTER HERE:
https://docs.google.com/forms/d/e/1FAIpQLSf1Ej2DpaSEsIDryqynEmFwPwllLpOChfFGw4Zcn-orimYnLg/viewform
Posted: to Athol Library News on Mon, Mar 8, 2021
Updated: Mon, Mar 8, 2021