Virtual Booked For Lunch: In Five Years by Rebecca Serle.
Monday, April 26 at Noon via Zoom.
Join Robin Brz. on Monday, April 26 at noon on Zoom for an hour of thoughtful book talk with other reading enthusiasts.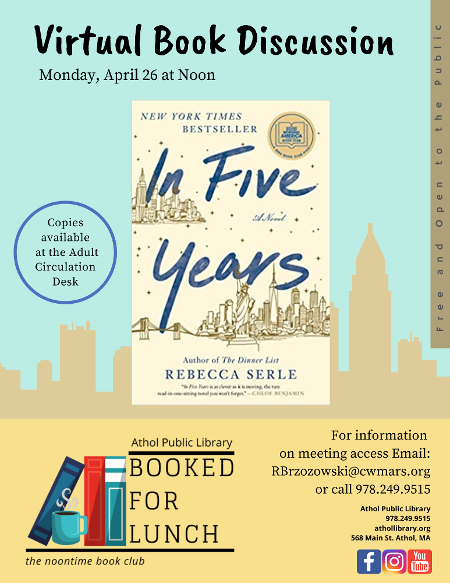 This month's title is In Five Years by Rebecca Serle. A striking, powerful, and moving love story following an ambitious lawyer who experiences an astonishing vision that could change her life forever. Dannie Kohan lives her life by the numbers. She is nothing like her lifelong best friend—the wild, whimsical, believes-in-fate Bella. Her meticulous planning seems to have paid off after she nails the most important job interview of her career and accepts her boyfriend's marriage proposal in one fell swoop, falling asleep completely content. But when she awakens, she's suddenly in a different apartment, with a different ring on her finger, and beside a very different man. Dannie spends one hour exactly five years in the future before she wakes again in her own home on the brink of midnight—but it is one hour she cannot shake. In Five Years is an unforgettable love story, but it is not the one you're expecting. (Description from the book jacket.)

Here's a peek at some of the reviews:

"Serle takes a fairly generic rom-com setup and turns it into something much deeper in this captivating exploration of friendship, loss, and love." —Booklist

"When smart, thoughtful writing pairs with a compelling, ingenious plot I am hooked and so very happy. It's been a long time since I read a novel in two sittings, but as soon as I started In Five Years, I was a goner." —ELINOR LIPMAN, author of Good Riddance.

"I read it in one late night. Very, very clever. And lovely. The end is EXACTLY what it should be." —ANSTEY HARRIS, author of Goodbye, Paris

Copies are available now at the library. Come see us during our regular business hours to get yours. Digital editions are available on the Libby App if you prefer an E or audio book. For information on how to participate, please email Robin at Rbrzozowski@cwmars.org.
Posted: to Athol Library News on Mon, Apr 5, 2021
Updated: Mon, Apr 5, 2021