Summer Reading Kick-Off Event!
Friday, June 18 from 11:00 - 1:00 p.m. in the park by the library!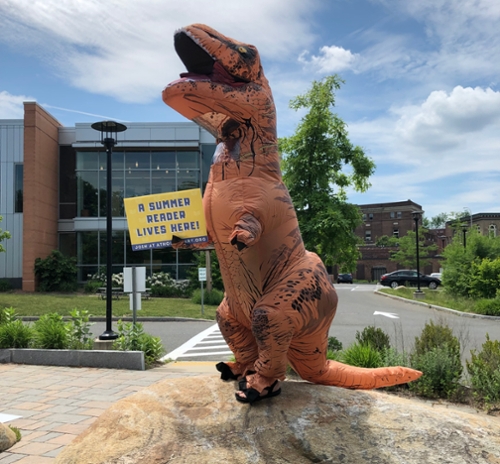 Readers of all ages will explore the animal kingdom this summer as the Athol Public Library presents "Tails & Tales." Our annual summer reading program will run from June 18 through August 20. There is something for everyone and plenty of ways to stay busy reading and having fun. Last year you exceeded the community reading goal - and we know we can count on you to do it again this year! If (when!) the goal is met, our fabulous Friends group will make a donation to the local animal shelter!

Beanstack, a web and mobile app, is back with new "Tails & Tales" challenges for all ages. It's easy to get started. Just sign up at athollibrary.beanstack.org, choose a challenge based on the reader's age and you are ready to track reading, complete activities, earn badges, and win prizes! In addition to the Virtual Beanstack Challenge (perfect for those with internet access), the Children's Room has a Visitor's Challenge designed with frequent library visitors in mind. Both challenges include a Tails & Tales Brag Tag necklace and all summer kids can earn beads and charms by attending programs and reaching reading milestones. Children's Librarian, River Stanley, says, "You can choose either the Virtual Challenge or the Visitor's Challenge or you can do both. We recommend both!"

We are excited to offer in-person programming. We will be taking advantage of the beautiful outdoor space in the Miller's River Park and making use of our indoor program rooms. We will also continue hosting virtual programs via Zoom. All ages programs on the schedule include: Animal World Experience with Matt Gabriel and his amazing animals, Henry the Juggler, Life-Size Candy Land, What Does a K9 Officer Do?: Q & A with Athol K9 Officers Deveneau & Gronk, and 9 holes of Mini Golf!

Teens participating in summer reading can sign up for Beanstack and participate in activities happening at the library. Pixel Art, Junk Car Races, and Slime Making are just a few events on the calendar. There's plenty for adults to do, too. Between tracking reading and completing challenges on Beanstack there are animal themed programs including Dog Treats with Carla (for teens – adults) and Pet First Aid (ages 8 – 108).

You won't want to miss the big Summer Reading Kick-Off on Friday, June 18. Look for the tents in the park behind the library and drop by anytime between 11:00am and 1:00pm. You can sign up for summer reading, play games, win prizes, collect a lawn sign and take-home activity kits, and even get your picture taken with our dinosaur! Our friends from Valuing Our Children and LUK, Inc. will also be on hand with information and giveaways. Remember to stop by the Friends of the Library Big Book Giveaway. There will be carts and tables of books arranged under the portico and everyone attending can choose up to 8 books! [Please bring your own bag.] The Kick-Off will be held indoors if it rains.

Check out our website for more details about all the great things happening this summer! All library programs are free and open to the public. Masks are required at all programs. "Tails & Tales" is sponsored by the Athol Public Library, the MA Board of Library Commissioners, the MA Library System, the Boston Bruins & Boston Pride hockey teams and the Friends of the Athol Public Library.
Posted: to Athol Library News on Wed, Jun 9, 2021
Updated: Wed, Jun 9, 2021