December Booked For Lunch Selection
December 27 at noon: Garden Spells by Sarah Addison Allen.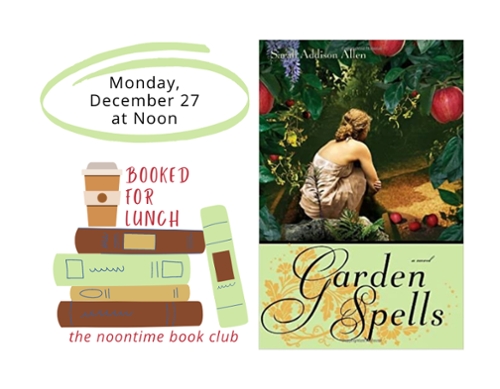 Thanksgiving is behind us and for, many, December brings its own host of activities and obligations. It's easy to get caught up in the hustle and bustle and things we enjoy - like reading - get pushed to the back burner. Do something nice for yourself and read our December Booked for Lunch selection Garden Spells by Sarah Addison Allen.

Garden Spells was published in 2007 and is the first of several novels from the author. It is a fairly quick read that she describes as "a captivating blend of magical realism, heartwarming romance, and small-town sensibility." The publisher calls Garden Spells a "modern-day fairy tale about an enchanted apple tree and the family of North Carolina women who tend it." Booklist called Sarah's accomplished debut "spellbindingly charming." A New York Times bestseller, it has
(4 stars) on Goodreads with 96,441 ratings!

Join Robin Brz., in person or online via Zoom on Monday, December 27 at noon to discuss this luminous novel about two sisters with very different viewpoints who are trying to escape or fighting to accept who they are. Copies are available at the adult circulation desk and digital editions can be downloaded using Libby or Overdrive. Register online using our snappy new calendar https://athol.librarycalendar.com/events/booked-lunch or by email at RBrzozowski@cwmars.org.
Posted: to Athol Library News on Tue, Nov 30, 2021
Updated: Mon, Dec 27, 2021