Everyone Has a Story - What's Yours?
Thursday, December 16 at 6:00 pm.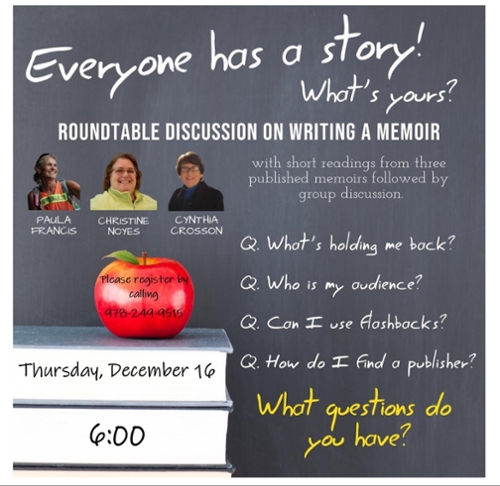 Take the mystery out of writing your memoir! Whether a novice with a great story, an experienced writer, or an avid reader, our guest authors will share their personal and professional experiences, answer your questions, and lay the path to publication. Everyone has a story to tell! What's yours?
This event will be led by three published authors: Paula Francis, Christine Noyes, and Cynthia Crosson - all of whom will also share readings from their books and help you explore your answers to these questions:
Who is my audience?
Can I use flashbacks?
How do I find a publisher?
What's holding me back?
Free and open to the public.
Register here or by calling 978-249-9515.
Attendees will be entered into a raffle to win one of the authors' books!
Posted: to Athol Library News on Thu, Dec 9, 2021
Updated: Thu, Dec 9, 2021