Accessories Sale - This Saturday!
December 11, 2021 from 10:00 am - 1:00 pm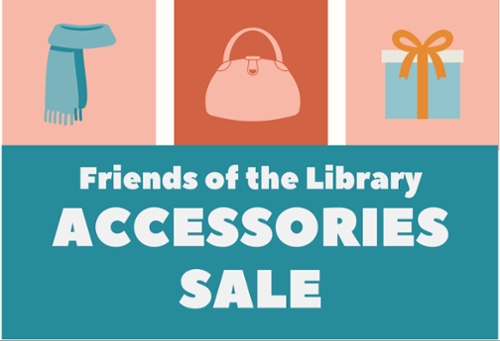 There is sure to be something for everyone at this year's Friends of the Library Accessories Sale. Our amazing volunteers have been hard at work, gathering a huge assortment of new, like new, and gently used items all for your shopping pleasure! We've got scarves, handbags, ties, and totes. There are watches, earrings, bangles, and bolos. There's even a table filled with brand new men's shirts, ties, caps, and fleece wear. And, if that's not enough, there are fancy and fun holiday decorations for the home. WOW!

Come see us this Saturday, December 11 starting at 10:00 am. Everything is priced to sell and all proceeds are used to provide free, quality programming for you and the greater Athol community. Our friendly volunteers will be here until 1:00 pm when the library closes.

Wait! There's more! The library will open back up Saturday evening at 6:00 pm as a pop-up location for the NQ Chamber of Commerce Midnight Madness event! In addition to the Accessories Sale you can shop with at least four different local vendors who will be set up in the large program room. Grab a friend, grab a family member, or leave them all behind and come on your own! We'll be here from 10:00 am to 1:00 pm and 6:00 pm to midnight. We can't wait to see you!

In case you're wondering, the library will NOT be open for regular business during the Midnight Madness event, but the bathrooms and Friends' Booksale Room will be.
Posted: to Athol Library News on Tue, Dec 7, 2021
Updated: Fri, Dec 10, 2021