Vote Now for the February Booked for Lunch Title
February's theme is "Libraries and Librarians".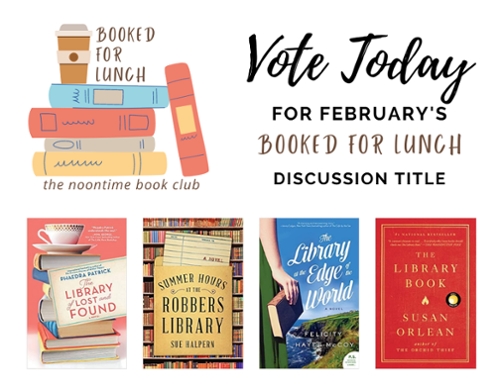 Ahhh February - a month devoted to the things we love. While "Romance" seemed an obvious choice for the next Booked for Lunch discussion group theme, it didn't seem quite right.
Then inspiration struck!
Valentine's Day = Love
Love = Books
Books = Libraries and Librarians
February's theme is Libraries and Librarians! Perfect! Authors and publishers must think so too, because there are LOTS of books in this category to choose from. Take a look at this blog post from BookRiot,
https://bookriot.com/100-must-read-books-about-libraries-bookstores/
or this one from The Bibliofile,
https://the-bibliofile.com/books-about-libraries-librarians/
. So many choices! The list was narrowed down and, based on availability within our library system, four titles were selected for the survey. Click on the link below and cast your vote today!
https://forms.gle/BBhf9AT1PB4ahESeA
If you haven't picked up your copy of
The Beantown Girls
, there's still time! Copies are available at the adult circulation desk. Stop by, grab yours today, and join us on Monday, January 24 at noon either in person at the library or online via Zoom. Registration is encouraged - and super easy using our new calendar - just click on the link below!
https://athol.librarycalendar.com/events/booked-lunch-0
Posted: to Athol Library News on Sun, Jan 9, 2022
Updated: Fri, Jan 14, 2022