February Vacation in the Children's Room
Tuesday, February 22 through Friday, February 25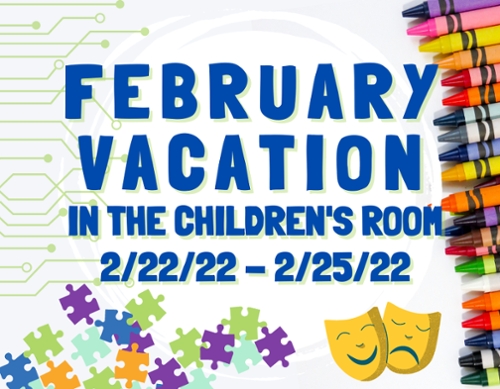 The Athol Public Library has a lineup of exciting programs and activities for kids during February school vacation. Find more details and sign up for programs at athol.librarycalendar.com.

Bright Star Touring Theatre Presents: Black History Hall of Fame
Tuesday, February 22, 2:22 pm

In just 45 minutes, you will be introduced to over a dozen groundbreakers and hall-of-famers that have contributed to shaping our nation's past, present, and future.

Registration required. All ages welcome.
---
Family Puzzle Competition
Wednesday, February 23, 1:00 pm - 3:00 pm

How fast can your family puzzle? Show off your skills at this exciting friendly puzzle competition! Teams will have up to two hours to complete a 300-piece puzzle. First family to finish wins a Redbox gift card and bragging rights!

Registration required. All ages welcome.
---
Tween Club
Wednesday, February 23, 3:30 pm - 4:30 pm

The Children's Room and the Teen Space have teamed up to offer an exclusive club specifically for kids ages 10-13! This club is largely member-driven, with different activities each month tailored to what our tweens want. This month we'll be making one page books by turning a single piece of paper into a tiny book.

No registration required. Ages 10-13.
---
Color Chaos (Drop-In)
Thursday, February 24, all day

The Children's Room will be full of cool things to color, including exclusive coloring pages, large drawing pages, and a giant fabric poster we'll use for decoration after! Stop by anytime to color and create.

No registration required.
---
Snap Circuits Maker's Space (Drop-In)
Friday, February 25, all day

Did you know the Children's Room has cool kits you can check out to learn basic engineering? Today, in the Children's Room, these kits will be out on the tables for anyone to try!

Want to see it in action? Check out this YouTube video.

Snap Circuits are recommended for people ages 8 and up. Your child may need your assistance to complete the projects.
---
You'll also find a scavenger hunt, guessing contests, a drop-in craft, toys, free used books, and more all month long in the Children's Room.
Posted: to Athol Library News on Mon, Feb 14, 2022
Updated: Thu, Feb 17, 2022