Tiny Art Show
Make a Tiny Masterpiece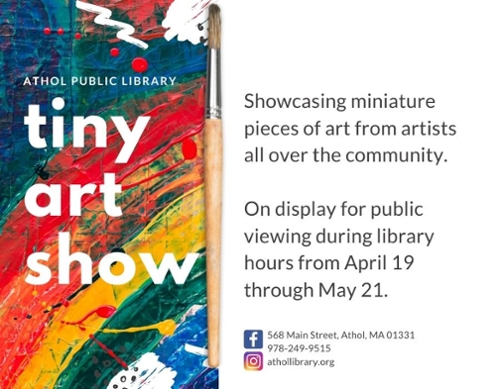 The Athol Public Library is hosting its first ever Tiny Art Show. We'll be showcasing miniature pieces of art from artists all over the community.
Any and all creators are invited to participate - no matter skill level or age. Create a piece of art that is 4" x 4". All mediums are welcome including paint, pencils, pen, needlework, sculpture, mixed media etc.
Register using the Submissions Open event to request a free kit with a canvas, brush, and paints (while supplies last) or use materials from home.
Submissions to the show will be accepted at the library from March 28 to April 15. Pieces will be on display for public viewing during library hours from April 19 through May 21.
Posted: to Athol Library News on Thu, Mar 24, 2022
Updated: Fri, Apr 1, 2022