April Booked For Lunch Selection
Monday, April 25 at noon: Good Citizens Need Not Fear by Maria Reva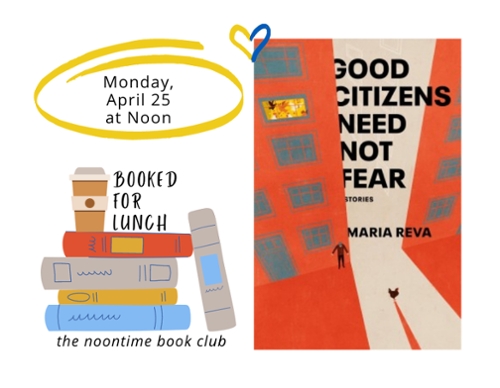 The April discussion theme is stories set in Ukraine, and the Booked for Lunch group is reading Good Citizens Need Not Fear by Maria Reva. The current situation in Ukraine is the lead story on every news broadcast and the headline of every newspaper. Through this collection of stories united around a single crumbling apartment building we are able to read beyond the news. It offers a way to learn about the people and their country as told through the lens of fiction. Born in Ukraine, Reva moved to Canada with her family in childhood, and grew up in Vancouver, British Columbia. Published in 2020, her debut collection is based in part on family stories of life in Soviet-era Ukraine.

A bureaucratic glitch omits an entire building, along with its residents, from municipal records. So begins Reva's "darkly hilarious" (Anthony Doerr) intertwined narratives, nine stories that span the chaotic years leading up to and immediately following the fall of the Soviet Union. But even as the benighted denizens of 1933 Ivansk Street weather the official neglect of the increasingly powerless authorities, they devise ingenious ways to survive. (Description from the publisher.)

Join Robin Brz., in person or online via Zoom, on Monday, April 25 at noon to discuss this collection of stories that Margaret Atwood calls "Bright, funny, satirical and relevant..." Regular and large print copies are available at the adult circulation desk. Digital editions are available for download using Libby or Overdrive. Registration is encouraged using our new calendar at https://athol.librarycalendar.com/events/booked-lunch-3 or by email at RBrzozowski@cwmars.org.
Posted: to Athol Library News on Thu, Mar 24, 2022
Updated: Fri, Apr 1, 2022