Palmistry with Diane DiPietro
Thursday, June 9 from 6:00 - 7:00 pm. Registration required!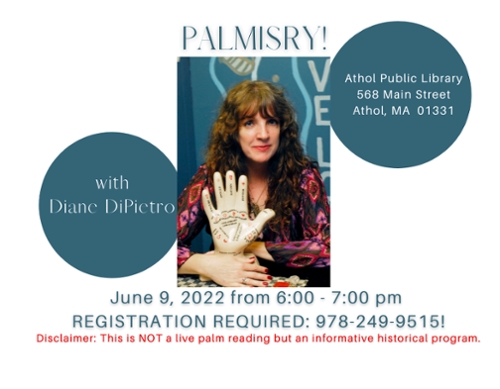 Join the Athol Public Library at 568 Main Street, Athol, on Thursday, June 9, 2022 from 6:00 – 7:00 p.m., as we welcome Diane DiPietro for a presentation about palmistry.

Join Diane DiPietro of Tintagels Gate~Flowerland for an hourlong presentation on palmistry. Diane will cover some history of the origins and various uses for palmistry over many centuries. She will also give a brief description of the major lines on our hands and what they mean.

Diane DiPietro has been reading palms for over twenty-two years and teaches classes at her store on Main Street right here in Athol.
Free and open to the public. Registration required!

You can register online with our new library calendar https://athol.librarycalendar.com/events/palmistry any time before June 9th or by calling 978-249-9515.
You will receive an email confirmation, and a reminder of the event 24 hours before the program. Questions? Please call the library at 978-249-9515.
Disclaimer: This program is NOT a live palm reading but is on the history of palmistry. There will be no palm readings at this event.
Posted: to Athol Library News on Sat, May 28, 2022
Updated: Fri, Jun 3, 2022