Teen Game Afternoon: Exploding Kittens!
Thursday, January 19 from 4:00 - 5:00 pm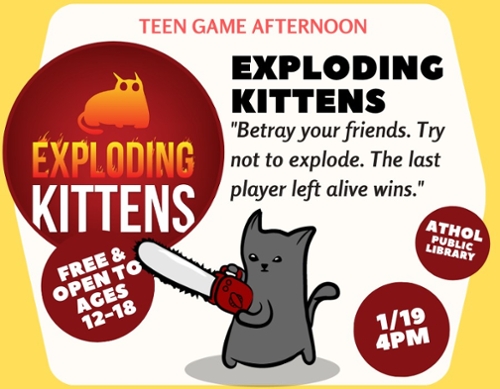 Join us in the Teen Space to play Exploding Kittens.

"Exploding Kittens is a highly-strategic, kitty powered version of Russian Roulette. Players draw cards until somebody draws an Exploding Kitten, at which point they explode and are out of the game. To avoid exploding, they can defuse the kitten with a laser pointer or catnip sandwich OR use powerful action cards to move or avoid the Exploding Kitten. Betray your friends. Try not to explode. The last player left alive wins."

Open to ages 12-18. No registration required.
Posted: to Athol Library News on Mon, Jan 9, 2023
Updated: Fri, Jan 13, 2023