Celtic Chocolate: A Celebration of All Things Irish!
March 16, 2023 from 6:00 - 7:30 pm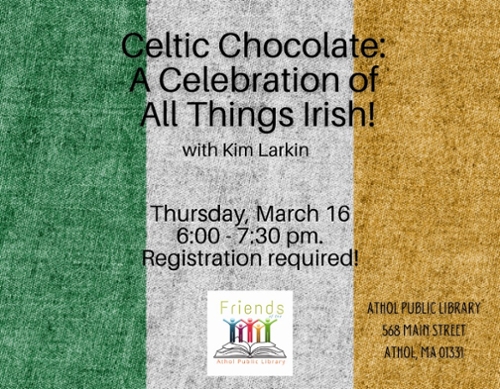 Join the Athol Public Library at 568 Main Street, Athol, on Thursday, March 16, 2023 from 6:00 – 7:30 p.m., when we welcome Kim Larkin, of Klassic Kreations, for her Irish history presentation and chocolate sampling.

Chocolatier Kim Larkin brings the Athol Public Library a cheerful program celebrating Ireland and all things Irish! Irish chocolate pioneers, The Book of Kells artistry, fairy lore, famous Irish authors, the history of the Claddagh, an Irish trivia quiz, and more will be highlighted in this presentation. Traditional Irish bread, lovely Celtic-designed chocolates, and Dublin Irish tea will be served at this presentation.

Kim Larkin has been teaching students from age 5 – 75 for over 20 years. She has a commercial chocolate business and she is a licensed chocolatier. She holds programs at libraries, schools, women's groups, retirement communities, and fundraising events in Connecticut and Massachusetts. You can find out more about Kim at https://www.klassickreations.com/.

Sponsored by the Friends of the Athol Public Library, this program is free and open to the public. Registration is required. Due to the nature of the program there are a limited number of slots for this event.

You can register online with our library calendar: https://athol.librarycalendar.com/event/celtic-chocolate-celebration-all-things-irish-kim-larkin or by calling, 978-249-9515.
You will receive an email confirmation, and an email reminder of the event 24 hours before the program. Questions? Please call the library at 978-249-9515.

Posted: to Athol Library News on Sun, Feb 12, 2023
Updated: Tue, Feb 21, 2023