September Booked For Lunch Selection
Monday, September 25 at noon: Take My Hand by Dolen Perkins-Valdez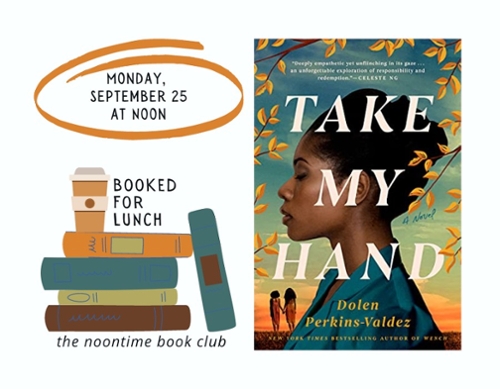 Welcome back to a new season of Booked for Lunch. This September we will be discussing Take My Hand by Dolen Perkins-Valdez.

Inspired by true events that rocked the nation, a searing and compassionate new novel about a Black nurse in post-segregation Alabama who blows the whistle on a terrible injustice done to her patients. Brimming with hope, Take My Hand is a stirring exploration of accountability and redemption.

Join the discussion in person or online via Zoom, on Monday, September 25 at noon. Registration is encouraged using our calendar or by email at RBrzozowski@cwmars.org. Regular and large print copies are available now at the adult circulation desk. Digital editions are available for download using Libby - although you may need to try the Boston Public Library or one of the other Libby partner libraries.
Posted: to Athol Library News on Thu, Aug 24, 2023
Updated: Thu, Aug 31, 2023