Leading Ladies of Hollywood's Golden Age: Katharine & Audrey
Thursday, November 2 @ 6:00 pm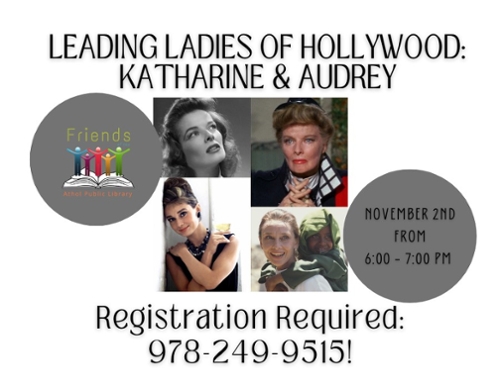 Join the Athol Public Library at 568 Main Street, Athol, on Thursday, November 2, 2023 from 6:00 – 7:00 p.m., when we welcome Frank Mandosa for his lecture on Katharine and Audrey Hepburn.

With so many iconic performances to choose from, Katharine and Audrey Hepburn remain two of cinema's most beloved female stars of the 20th century. So, grab a Danish and a cup of coffee, and instead of heading to Tiffany's, come instead to the Athol Public Library for an in-depth look at the lives and careers of two celebrated actresses who contributed immeasurably not only to cinema, but also to the world.

You will find out once and for all whether they were distant relatives. This will be a one hour film slideshow lecture with movie clips.

Frank Mandosa is a full-time high school English teacher with a lifelong love for cinema. Since 2012, he has been presenting on a wide variety of film-related topics. Please visit frankmandosa.weebly.com for more information.

Sponsored by the Friends of the Athol Public Library, this program is free and open to the public. Registration is required.

You can register online with our library calendar: Leading Ladies of Hollywood or by calling, 978-249-9515. Questions? Please call the library at 978-249-9515.
Posted: to Athol Library News on Thu, Oct 12, 2023
Updated: Fri, Nov 3, 2023